As many of you will know, I've had my S5 lowered and have 15mm spacers all round. The wheels now fit very snugly under the aches (see profile pic) and it just looks great!
However... Every time somebody sees my car they almost always ask "Doesn't the wheel catch on the arches?" because it looks like it should... I briefly explain that due to the suspension geometry the wheel moves away from the arch under compression... and usually end up having to explain about wishbone suspension and camber angles etc... Yawn!
However, to help explain to those on here who were also wondering... and especially for those about to have their cars lowered and spacered (is that a word?) this weekend, a diagram you can print out and carry with you to explain to people you talk to that actually, there isn't a problem with the tyres fouling the arches...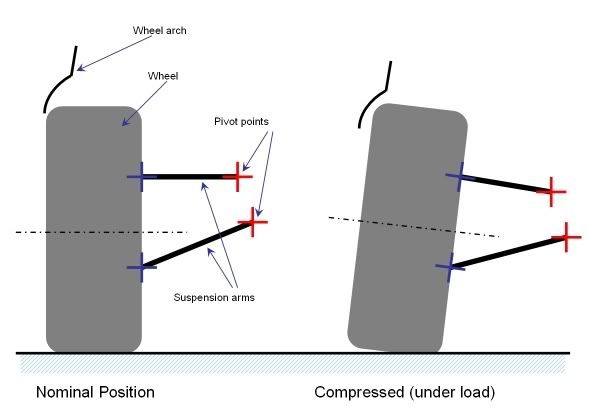 I think that's self explanatory!
The suspension is designed like this in order to increase the camber angle of the wheel when cornering hard and the car leans a little (or not if you've had it lowered
). This helps maintain the footprint of the tyre properly on the road giving greater grip and stability.
Ian (Prof!)
PS... I think I might start my own "technical stuff for dummies like me" blog!