Discussion Starter
·
#1
·
Although the European headlights (and the factory lights as well) provide excellent lighting, I was looking for a little more as I'm always concerned at night about overdriving my lights (especially since I don't have the adaptive Xenons). I installed the Hoen H11s when I got the car but that was done more from a color-matching perspective than actual light output.
I researched on-line doing a HID/Xenon conversion for the fogs and tried a couple of kits but always ended-up with a bulb-out warning. I then found the kit provided by SharpHID which included an option for "Computer Bulb Out Warning Cancellers". Total price for the H11 35W kit and the cancellers was $130.
Installation was relatively straightforward (truly "plug-n-play"):
1. Remove front wheels
2. Remove most of the screws holding the fender liner and peel it back
3. Unplug factory harness from the fog lights and replace the standard H11 bulbs with the HID/Xenon bulbs
4. Find a good location for the ballasts (I chose the inner radiator support) and drill holes. Mount ballasts.
5. Connect the ballasts and cancellers to the factory harness:
6. Reinstall the fender liner and wheels
(Total time for a novice should be about 1.5 hours / definitely under an hour if you know what you're doing)
I've been running the kit now for a month now and finally got around to taking some pics at night (I do not have before and after pics; sorry):
HID/Xenon Fogs Only: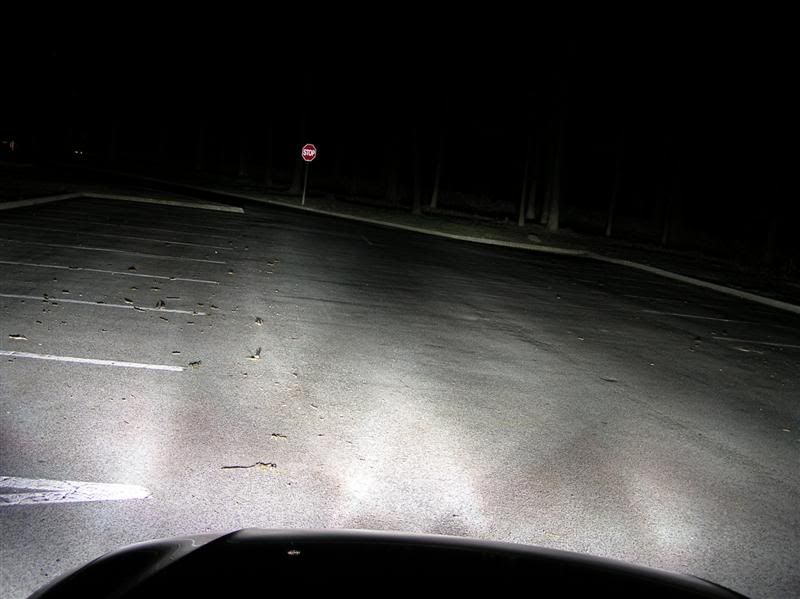 Headlights and HID/Xenon Fogs:
Side-by-Side Comparison (Fogs Only v. Headlights & Fogs):
Overall, a worthwhile mod IMHO!