Discussion Starter
·
#1
·
After reading several threads on the forum regarding the fuel flap locking actuator, I decided to check whether mine still worked. Guess what it didn't! so off I went to my local dealers and I purchased a new one for £14.83. It took me 15 minutes to do the job and I took some pictures to help if anybody else fancies doing it themselves. So here goes,
Locate the the storage well in the boot, it just folds down revealing this...
You can see the red pull cord loop
I attached a length of string to it, so to aid the re-fit
Remove the Torx screw with a T20 torx bit and very carefully in the corners of the fuel flap surround, using a flat blade screwdriver lift and pull the securing clips out, be careful it,s easy to break the clips. The fuel cap and flap needs to come off with it as well.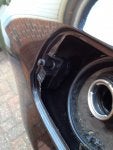 You now can see the Actuator on the lip on the bodywork this just pulls off and unplug the connector.
Actuator off the car
Cut the string off and now tie it onto the new Actuator, place it back on the bodywork and pull the string back though
Sorry about the quality of the this one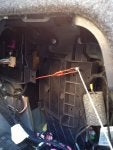 Pulled back though, makes this process dead easy.
All back together, the fuel flap and surround just slots back in place.
Tested and now you can hear the Actuator locking the fuel flap.
Sorted and it didn't cost £100 in an hours labour charge at the dealer.
I hope this helps.