I never thought I would do enough mods to warrant a build thread...but as usual the mod bug bit hard!!
So here is everything I have done so far and have planned
I was coming from a Golf GT Sport 1.4 TSI. Good little car! Enjoyed the supercharger in it! Always considered it like a baby GTI. MKV was also, IMO, the last good looking Golf before they went all square...
Bought the A5 two years ago. Is an 09' 2.0 TFSI Sport, FWD, Multitronic in Phantom Black. Came with the 10 spoke 18" Alloys and Bluetooth was retrofitted. Other than that, pretty basic! Did make sure it had the DRL lights though and also came with a couple of rarer options, such as the power folding mirrors and tilt sunroof.
Lights
First mod was to change the fog and license plate lights to LED. Unfortunately I did this before I knew about T8ups, so both were bought off eBay for pretty cheap. Happy with the license plate ones, but the fogs could do with being a bit whiter to match DRLs better...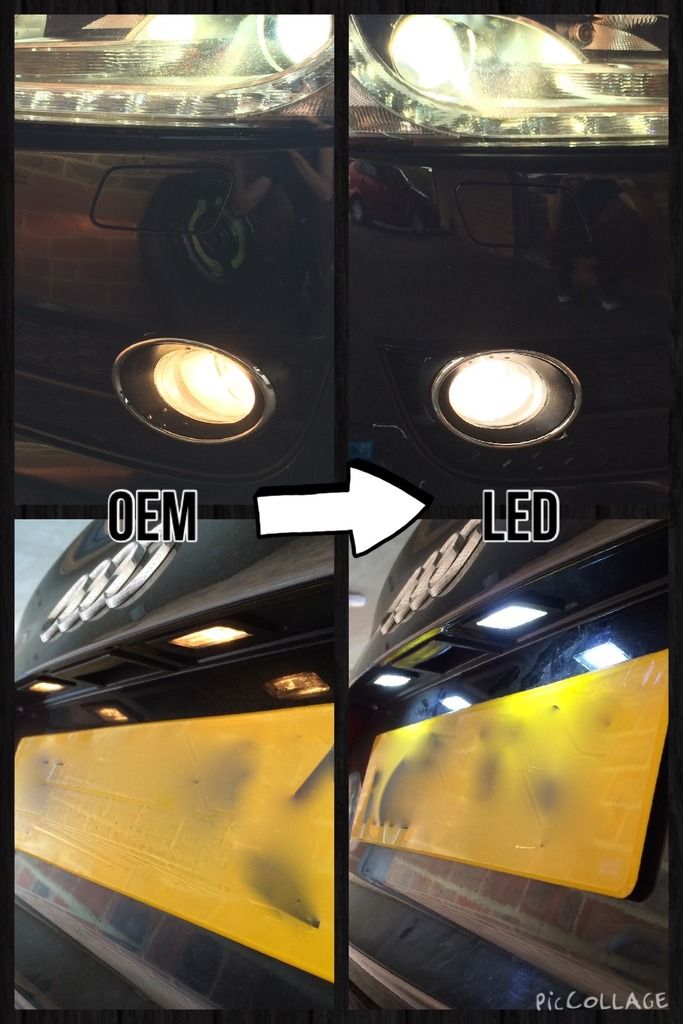 I then did get in contact with T8ups to do the LED interior lights and think they are perfect!
Brake Callipers
Next was to paint the brake callipers to get rid of the rusty look. Used a pot of smooth black hammerite. Since got new discs so my hubs are OK and will probably soon paint the shield black too, although it looks pretty black already..! Not really a fan of the silver as its a bit too bright.
Dashcam
I then installed a dash cam which I hid behind the rearview mirror. Didn't bother hard wiring it into the fuse on the side, just bought a long cable and routed it around the trim and under the seat, up into the middle armrest into the socket in there. Very impressed with this little camera. Cheap as chips and does what I need it to do. Already used the footage to help a lady out that had a knock from the side by a lorry
Unfortunately, I have now installed a auto-dimming mirror. Got it for a great price, but was disappointed since it seemed to dim a lot. Thought it was faulty until I clocked that the camera was right in front of a sensor on the back...! Don't really want to move the camera (stuck on with 3M tape, rather than suction) so need to think how to solve this...! Like how hidden it is...
RS5 Style Grill
Bought a RS5 style grill from Cuppa to replace the ridiculously ugly grey plastic grill on the SE and Sport models of the A5.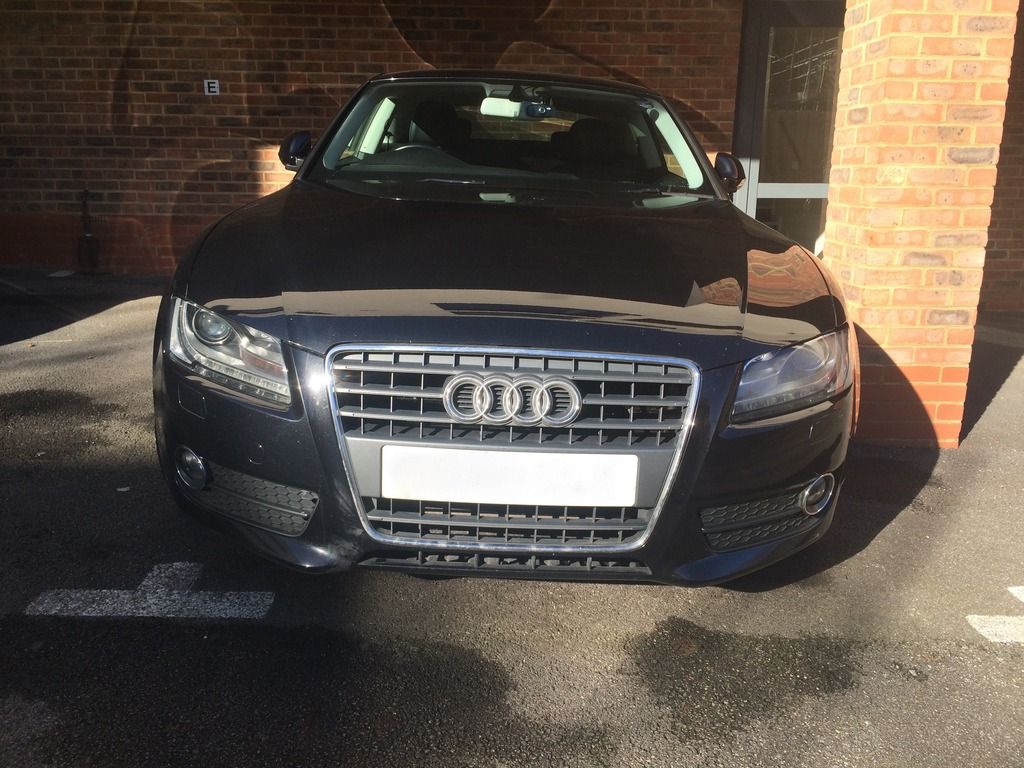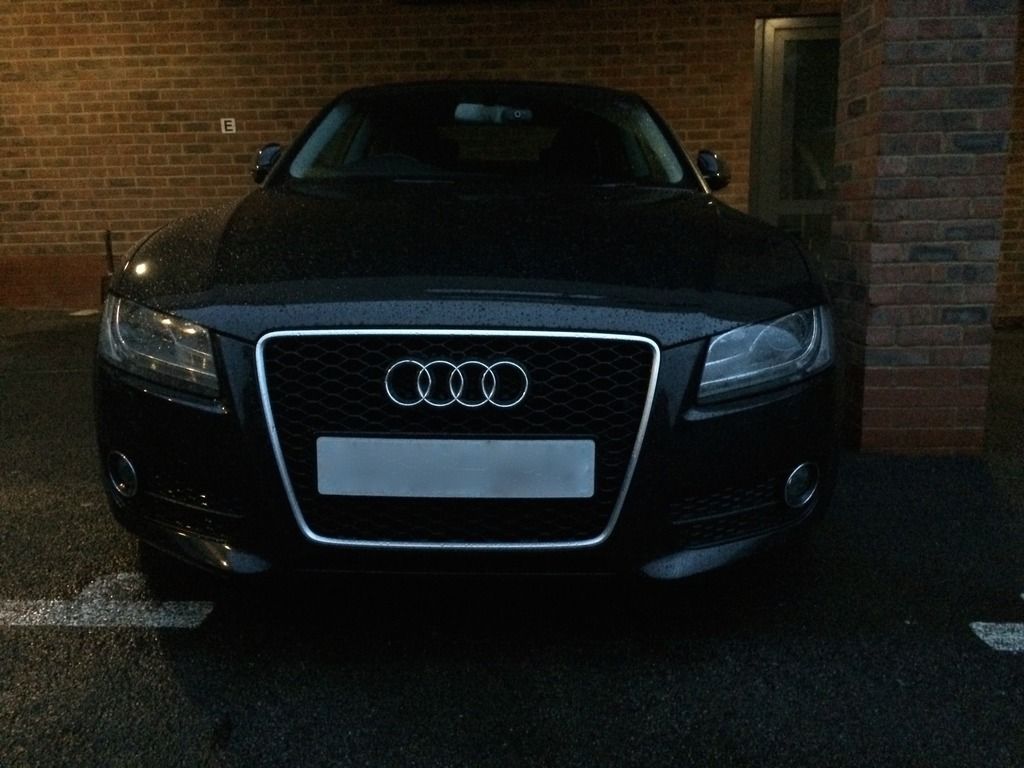 Much better
Cuppa did have it wrapped, but i liked the chrome look on the black A5. Unfortunately then 'chrome' edging was more brushed aluminium, so I decided to remove the chrome trim from my original grill and swap it out. Broke a few tabs, but in all it was pretty easy and looks miles better.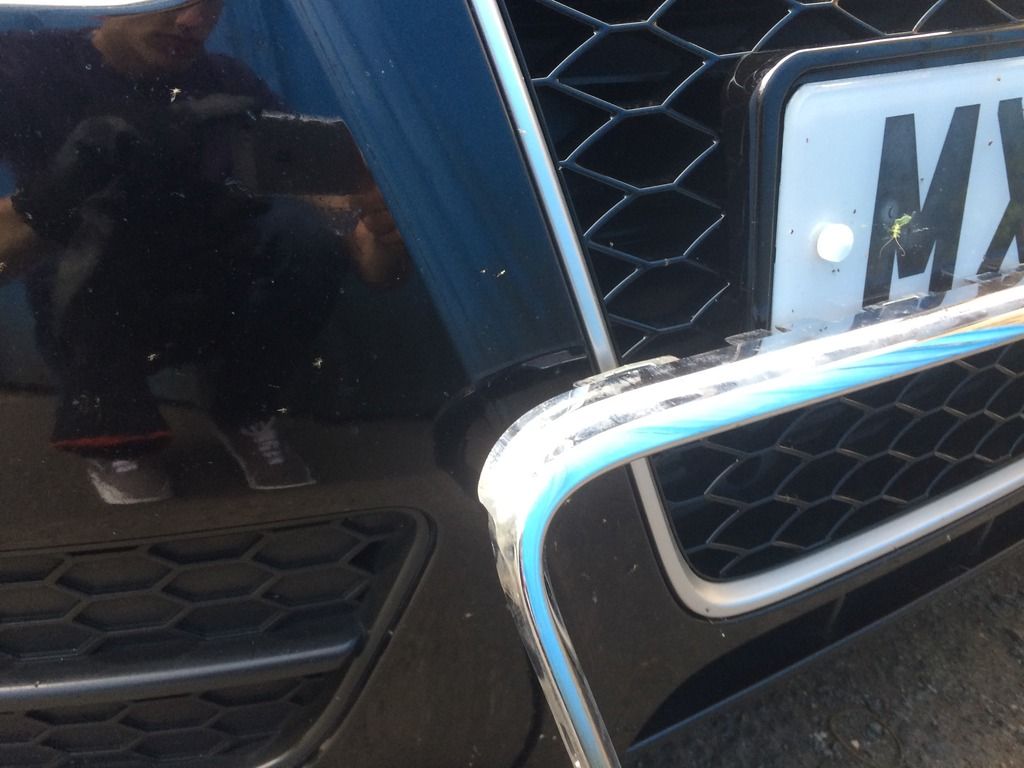 Interior Touches
Other bits I have done include adding the aluminium S5 pedals that I bought from S5Mafia, which I love
And I'm currently debating about whether to wrap the silver trim in a silver carbon fibre look...will give it a go and leave it for a week to see if I like it. So far..I think I do!
Next mods
Next biggy is to install my new 20" hyper silver rotor wheels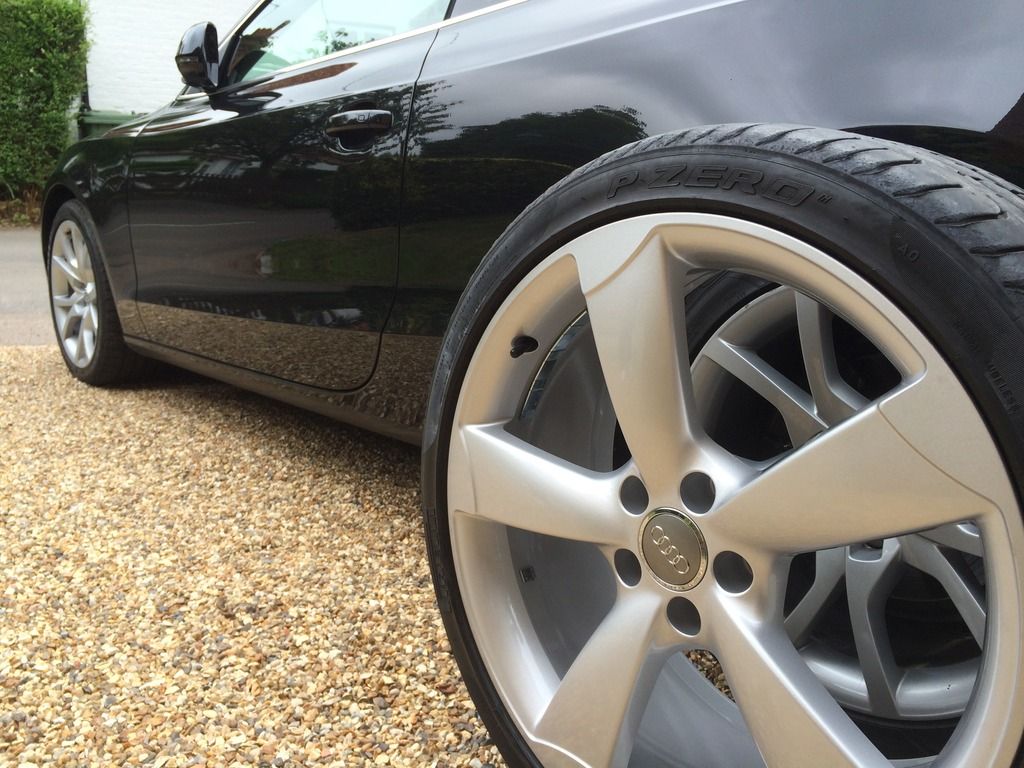 Got them off Jamin, which were painted in black, so had them redone in hyper silver. Very excited to put these on this week hopefully. Just want to get the Gtechniq C5 coating done properly before I stick them on.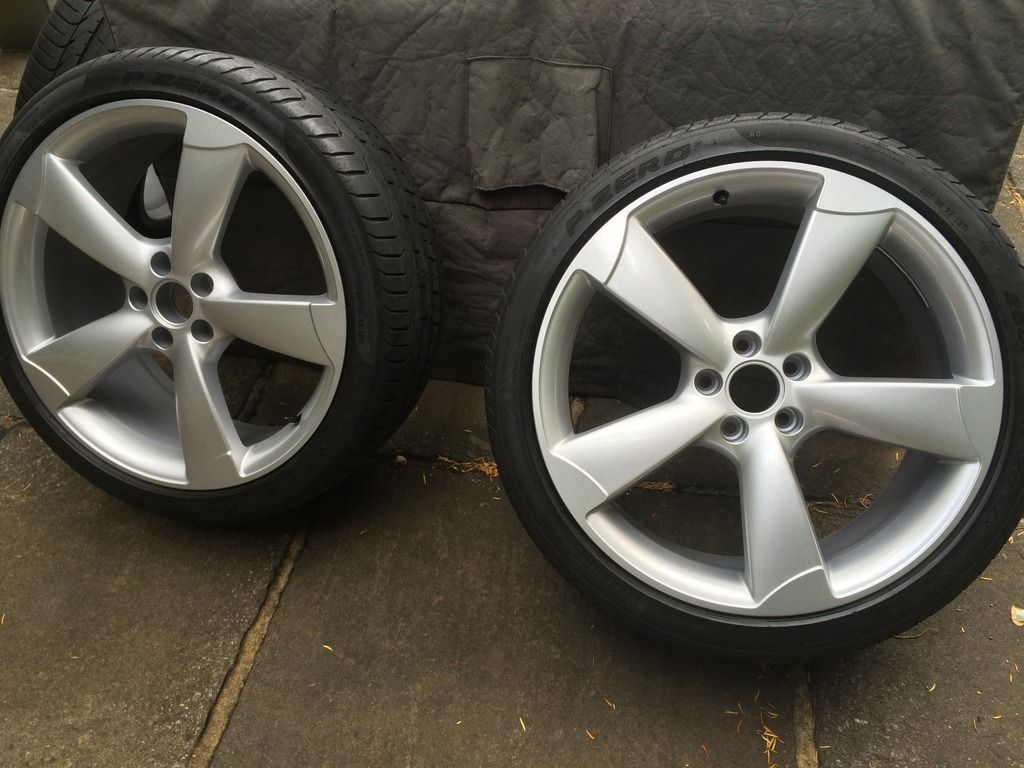 Going with 20mm/25mm spacers to hopefully get a flush look. Believe these rotors are from the A6, so the offset is much higher (ET45) and the width is smaller than usual (8.5") but hoping it will look good nevertheless.
This is the most recent picture. Will update this week with new wheels and show off the chrome edging on the grill too. :thumbsup: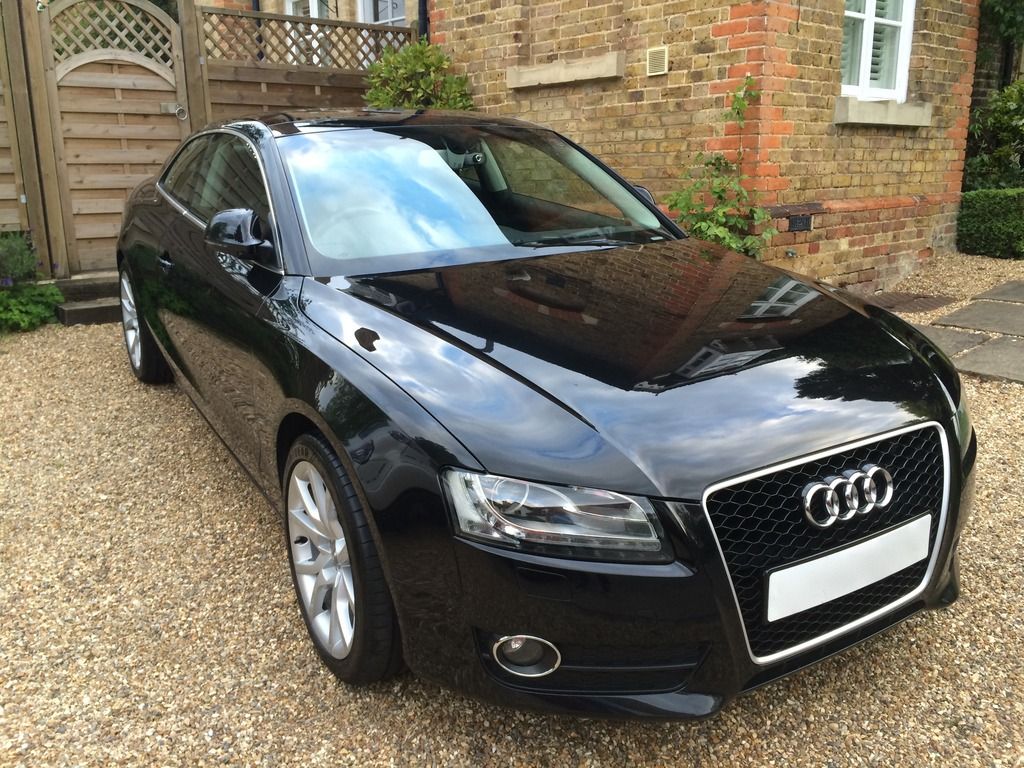 Finally, I have ordered the new facelift gear stick so looking forward to replacing the ugly pre-FL stick this week too! Both should make a substantial difference to both the interior and exterior.
Other things I would like to do is a flat bottom steering wheel and perhaps lowering it on H&R OE springs, but don't think I have the money for either of those so may have to wait a year, if I do them at all.
Also need to do a full 3-stage paint correction and apply Gtechniq C1 in the next couple of months so that will keep me busy. Hopefully make that Phantom Black paint pop like it used to